Wear Your TBirds Colors Day 2021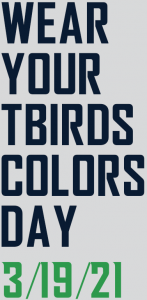 2020. There's not much to be said about last year because we all lived through it. And we remember those that didn't.
The Seattle TBirds 2019-20 season ended abruptly and without a postseason. We may have had a faint idea that a break in the season was coming but even the most pessimistic vision wouldn't have predicted over 370 days of no hockey.
This is why it's so exciting and somewhat relieving to say that we are officially in opening week! The Thunderbirds will hit the ice on Friday and take on the Spokane Chiefs at the ShoWare Center. This, like all 24 games in this abbreviated and unique season, will be against a US Division opponent.
So while we can't be in attendance to see our hockey family, make new friends, and yell for the boys, it doesn't mean that there aren't ways to show our support. On Saturday, as you do your weekly shopping or have that video call with your work team or enjoy a nice dinner and beer outside at your favorite restaurant, be sure to wear your TBirds colors. Show who you root for as you post pictures on Instagram or Twitter with the hashtag #WYTCD. And of course, be sure to keep those colors on as you watch the season opener on WHL Live.
We'll be together again soon. But until then, we can be united while distanced and singular in our support. Let's Go Birds!