Wear Your TBirds Colors Day 5/5
The TBi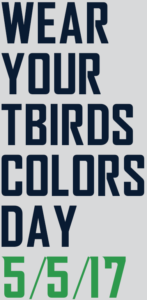 rds have done it again! They defeated the Kelowna Rockets in 6 games and are headed to the WHL Final in back-to-back seasons for the first time in team history. With this unprecedented playoff success the last 2 seasons, it's now more important than ever to show your support while they try to push into uncharted territory.
This Friday, May 5th, is game 1 of the WHL Final vs Regina. We're calling on all Seattle fans, and all hockey fans, in the region to show their support for the TBirds in their quest for their first WHL championship and a trip to the Memorial Cup. Whether at work, at school, out doing errands or, most importantly, in Regina, we want to see you sporting your TBirds colors. Show your pictures on Twitter and be sure to tag both @TBirdTidbits and @SeattleTbirds and add the #WYTCD to them so we can share them. Share your pictures on the TBirds Talk Facebook page and tag them #WYTCD.  And share this post on all your social media channels so we can get the word out all over.
This is a great time to be a junior hockey fan in the Puget Sound region. Show the team how much you are behind them and root them on to history!