If I had $1000000, I'd buy your love
There aren't a lot of times that we are going to use this outlet to express opinions. We like trading in facts and figures. However, just like most of you readers, we are fans of the team and certainly have opinions on how things could be different and, therefore, better. Today we are going to look at things we would change about ShoWare Center and the operations/promotions of the team. This isn't going to be a discussion of coaching staffs, management, player personnel, etc. These will all be things auxiliary to the actual game. Some of these ideas won't be practical given current contracts and obligations but this is a "perfect world" type post.
Concessions
First, the concessions have improved since the opening of the building. The Chef's Corner has been an amazing option. When first introduced, most people ignored it thinking that what was served wasn't "arena food" but people have came around and it seems to be popular. The key appears to be variety. And while the carving station options don't vary, it is also a nice choice apart from the fried foods. However, there are areas where things could be improved:
Pizza. This seems like a no-brainer to me. It's offered as an option in the suites and with a couple warming areas at the current stands, could be offered by the slice on the concourse. Or maybe put it where the current temporary souvenir stand is? Not having this seems like leaving money on the table.
Another espresso stand. I'm sure at the outset they didn't imagine this was going to be as popular as it is but enough time has passed where they have to realize they need another. There are some nights that line is longer than the beer line. Another idea would be to separate the drinks from the pastries as that is where a lot of the time is lost. Any concession stand that keeps your customers from returning to their seats before intermission is over needs to be addressed.
Airways beer. This is one of those suggestions that can't be implemented under current contracts but should be at the next opportunity. As Kent's local beer, it absolutely should be represented at the arena. Building relationships with local suppliers should be one of the goals of the city and arena management. When in Everett, it's good to see Scuttlebutt be both one of the sponsors and available in the lounge.
Secondary beer tables. For the most part, these have been deployed pretty well. Employee availability may limit how often they have them out but they should be mandatory on both Tuesdays and Portland games.
Access to the pre-game buffet for season ticket holders. Currently only available to club and suite seat holders, this should be offered as a perk to those making full-season commitments. Last season, there was a voucher in the season ticket holder book for this but could be expanded. If you've been to a Victoria game, they have a full dinner buffet available to any ticket holder. It's pricey but also convenient.
Arena upgrades
There's not much reason to go over the actual building as that ship has sailed. It would be nice to have a concourse all the way around the rink but a cost decision was made so it is what it is. Inside the building, though, there are a couple things that can make the experience more enjoyable.
Some color, anywhere, in the seating bowl. Sometimes the minimalist approach is good but there are just way too many blank areas in the seating areas. Whether the metal parts at the top of each section or the walls of the rink, it needs…something. For those that were at KeyArena, remember the banner of the night contest? Sure, you saw the same ones over and over again but it's been long enough that the creative juices might be flowing again. Even banners with just a players name and number on the walls in front of the suites would be good. It's far too sterile.
LED advertising. Along with the above, dynamic LED ribbons in place of the current analog ads would help. While showing the current advertising partners, it would also allow other graphics to be shown. Goal celebrations, player pictures after they score, upcoming ShoWare Center events, out-of-town scores and more.
Electronic 50/50 sales. It wasn't long ago that the WHL signed an agreement with Pointstreak 5050 to be the official raffle company of the league. While on the Central road trip this season, we got to experience this and another electronic 50/50 system and it makes a huge difference. Random numbers, real-time jackpot displays all over the arena and the ability to claim jackpots at later date. It seems like this would lead to more sales which is good for both the organization involved in the selling and the fans.
Another ATM. Needed especially on Tuesdays to make the concession lines go faster. Might be good to partner with one of the local banks to have a branded ATM to cut down on user fees. Every single person who uses the current ATM is going to get penalized with fees because it is independent.
Free arena-wide Wifi. Expensive, sure, but great to have. Not for streaming video or anything but allowing people to download the digital program at the rink , being able to check the TBirds and WHL app and, selfishly, handy for bloggers, all without using cell phone data.
Team history on the concourse. Almost any other rink you go to, there are banners or pictures or lists of former players to make it in the NHL, WHL award winners or other notable alumni. They've started on this with the murals they have begun to paint around the arena but there is so much history, more needs to be done. As an example. here is what is in Prince George. All around the concourse, they have these banners with a different player on each side: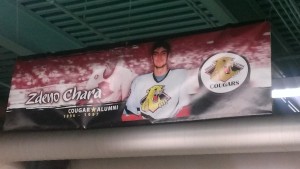 Merchandise/gameday operations
The merchandise options have come a long way since the days of the temporary stands at KeyArena. Having a physical store has helped that out a lot. And yet, they have strayed a little bit from one of their biggest money-makers from back then.
More jerseys. Next season ('15-'16) would be a great year to have a throwback jersey to the original Thunderbirds uniforms. And if you don't like those, throwback to the last jerseys before the change to the current colors. That one you could do anytime. You could even theme it and have another team wear throwbacks as well. The old black and gold triangle of the Americans comes to mind. How about a white version of our current third jersey? Also, all those holiday-related warmup and game jerseys are missed. If you get those again, that leads to…
More jersey auctions. Much like the pizza, this seems like money on the table. The jerseys always go for more than the cost the team pays for the jersey. There is probably a worry of brand dilution but the different jerseys are conversation starters at road games and are attention-getters at home games. As long as you keep the current logos, no matter the color scheme, it will be recognizable.
6th player/Cool Bird on ice. Youth hockey is huge in the area. Almost every other team has a youth player out on the ice with the starting lineup during introductions. Seattle did it once(?) this past season but it should happen at every game. Also, Cool Bird should be on the ice for pre-game ceremonies.
New music. The same songs have been played between whistles for the better part of decade. A complete overhaul isn't necessary but more variety would be greatly welcomed.
On-ice postgame interview. With the very unfortunate passing of color commentator Bruce McDonald, we also lost the on-ice player and coach interviews. Without a partner to recap the stats, Thom Beuning doesn't have the opportunity to get from the radio booth to the Zamboni entrance. Now, a new color commentator isn't what is being asked for here but it would be nice to either have a member of the team conduct an interview or work out a headset setup where Thom can ask questions from the booth and have that interview piped through the speakers.
Bring back the cowbell ban. This was such a great idea during the first season and made for a home-ice advantage. It singles out a fanbase of an opposing team but, good, it should. Their enjoyment of the game shouldn't be tied to whether or not their bells are allowed. It was probably a business decision as they didn't want to turn away ticket purchases but the team shouldn't be making it easier for opposing fans to make noise.
Reporting incidents in the stands via text. This is becoming a standard in most arenas. May help calm down situations quicker, especially on Tuesdays.
Skills contest. Some empty weekend afternoon, open the doors, ask for a canned foods donations and have skills contest. Most teams have these and it's a nice way for the fans to see the players in a casual yet competitive setting. Most accurate shooter, fastest skater, hardest shot and other events. If you build a history of it, future players would want to try to break records.
That's most of what we would want. There are other smaller things here and there we would change but these are the big ones. And honestly, you don't need a million dollars to do most of these. A lot of these could be implemented without a lot of money or effort.
Now it's your turn. What you would like to see different at ShoWare Center or with the team? Again, we're not talking about personnel decisions or styles of play, keep it to the areas we've covered here. We're curious to see if there are suggestions we haven't thought of that are great ideas.