Wear Your TBirds Colors Day 2019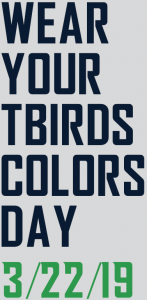 Vancouver vs Seattle. It's a playoff matchup that has only happened once before in the WHL. But while these teams don't have much of a history, the cities definitely do. And with the coming addition of a Seattle NHL team, it is sure to keep growing.
There's been a lot of focus on the Cascadia region recently when it comes to hockey. The rebuild and rise of the Giants in Vancouver, the continued success of the Winterhawks in Portland, the back-to-back WHL Final appearances for the Thunderbirds. Also, Everett exists. The Pacific Northwest is abuzz with renewed interest in both junior and professional hockey. The Canucks have started their youth movement with their best days yet to come and everyone is waiting in eager anticipation for the 32nd NHL team to be born in the Emerald City.
So why not get this cross-border battle to a boil now? Show everyone that hockey is already alive and well in the Seattle/Kent area. Show the fans in Vancouver/Langley that we represent our team well. Show the boys on the ice that we support them here and there.
Get out your t-shirts, your hats, your face paint, and especially your jerseys, and show those you work with, those you go to school with, and everyone else you see on Friday that you are behind the TBirds. Share your pictures of your colors on social media with the hashtag #WYTCD. Hopefully, we will also see (and hear!) that support at game 1 in Langley on Friday.